Ares Galaxy
2.4.6
A cozy hub
There's something about IRC that I find endearing. Maybe it's because of anonymity, or maybe because it represents one of my first encounters with the Internet. ASL PLS and all that. Ares however is not about chatting, but about file sharing. Well, maybe it's both.
Here we mainly have a peer-to-peer Bit Torrent application. That means you can search for any type of files but you can also share. Sharing is done by selecting a folder from which anything becomes hashed and shared to other Ares users. However, in proper Bit Torrent manner, you cannot just browse content, but must search for specific stuff. Whatever you download will also be shared automatically.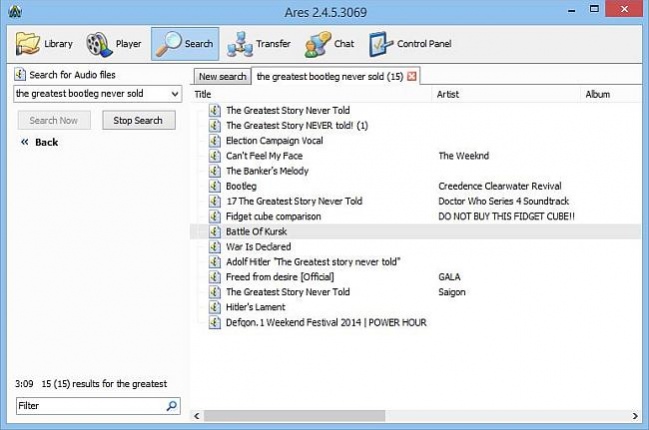 Also in proper torrent fashion, video files can be previewed when there's enough data to do so. The video player that's included is fairly apt at playing any media.
Ares features a full blown media library. Anything you shared will be categorized and can be browsed from the media library. Not only that files are grouped by type, they can also be viewed by sub categories. For example, music can be grouped by artist or genre, apps can be grouped by company or category, and so on.
Coming back to IRC, users are able to create and join chat rooms, just like in the olden days. There are several chat rooms online, but I could hardly find anybody to chat with. Must have been the wrong hour. Most seem to be working out of South America. I'm not going to tell you where I'm working from though.
Features
Media Library
Media file preview
Internet Relay Chat support
Final Thoughts
I'm no stranger to Bit Torrent clients. However, Ares is something different and I think I'll be keeping it on my computer. I've also shared some interesting stuff about Satan and whatnot. I can't say a lot about the chat part, but I guess users must explore it for themselves.
RELATED PROGRAMS
Our Recommendations
---
---
---
---